What is Submission Wizard Intellimatch
The Submission Wizard uses powerful category and country filtering to ensure your site is only submitted where it is welcome. We call this 'Intellimatch' filtering.
Intellimatch allows you to select a number of sites which may have no theme or common country base and submit them during a single submission run to all the engines possible for each site.
For example, if you select a site relating to web site hosting, and another relating to trade links in China, then select ALL engines in the engine list, during the submission the Intellimatch filter will automatically skip submissions to the sites that are irrelevant for the site being submitted, resulting in the two sites being submitted during a single run, but to many different engines. The China site will have been submitted to sites that only deal with sites in China, while the Web Hosting will have been submitted to sites that do not accept links from China.
As you can see on the screenshot below, the report is showing ' iExclusion'. This means intellimatch exclusion.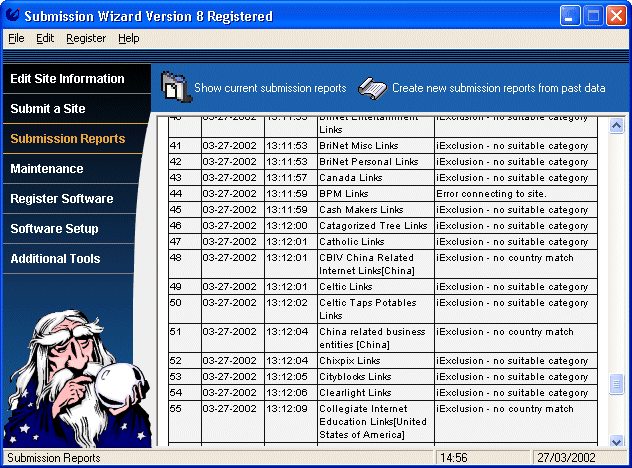 As a general rule up to 20% of sites may not be appropriate for your category, as we add more specific site engines this number may rise, however this is not a bad thing, those engines that are specific to your site will receive your submission and you will not waste your time submitting to those that are not appropriate.
Intellimatch results in better exposure for your site, not only do you get listings in all the major databases, but now you are also listed in smaller specialised directories, further increasing your sites exposure to your target audience.
Note:
We have added specialist engines because they are good for all Wizard users, however occasionally we have the odd user who decides it would be a good idea to 'beat the system' by submitting to irrelevant categories or countries for their site. This is not a good idea, it will simply result in your submissions being rejected by the engines, and may result in the specialist engines being withdrawn from the wizard engine list which of course is not good for all users.
Due to this possible abuse, Exploit view inappropriate category and country selection as a serious breach of the user license. Please select the closest match from our category list for the content your site to ensure accurate and appropriate submissions to the maximum number of engines possible.
Back to the Submission Wizard Help Index